Montessori is a timeless approach to education with a powerful legacy of proven success. For over a century, the Montessori model has equipped children around the world with a distinct academic advantage that lasts a lifetime.
Children are born with an innate desire to learn, a natural curiosity that inspires them to explore the world around them. A good education channels this innate desire and helps it grow. Montessori fundamentals like uninterrupted work time, concrete, experiential learning, and peer-to-peer teaching give children a sense of passion, proficiency, and purpose in the classroom.
At The Clover School, each child is recognized as unique, with certain gifts that are their own. Our Montessori learning environments give them the freedom to learn both social and academic skills in a variety of different ways, accommodating a wide range of learning styles. Allowing students the freedom to work at their own pace and follow their own interests helps foster joyful engagement, resourcefulness and inspires curiosity with supportive guidance from expert teachers. This approach gives them skills and systems of accountability, meaningful and challenging learning, responsibility, time and project management skills and helps create an environment that fosters self-regulation, motivated and successful learning outcomes.
Montessori at The Clover School offers children a chance to develop their potential as they step out into the world as engaged, responsible and respectful citizens who embrace learning as a lifelong journey.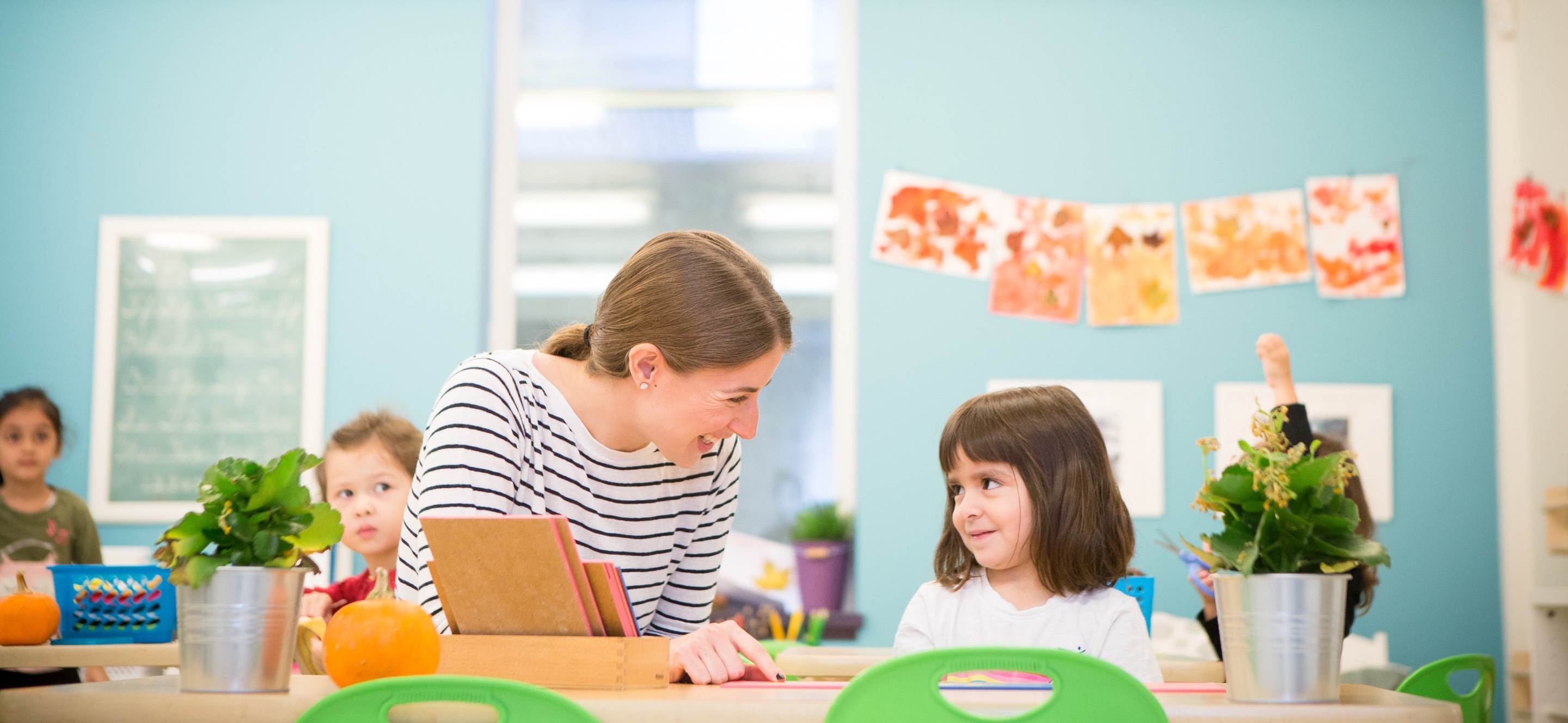 Montessori students develop a love for learning, a sense of order, coordination, concentration and independence.
Dedicated time for uninterrupted focus in environments designed for effective concrete learning support a child's emerging self-regulation skills, the ability to direct one's own learning, and channel flow states for deep concentration and healthy brain development.
Part of a close, caring community.
Clover classrooms are mixed age communities of young learners. This creates a mutually supportive, family structure of classroom life where older students enjoy being mentors and role models, and younger children feel inspired and supported by their older classmates. Teachers model respect, loving kindness, and a commitment to a positive learning environment.
Freedom within safe and age appropriate limits.
At The Clover School, students are active participants who are empowered to direct their own learning and choose their own path. Teachers understand that true satisfaction and a sense of accomplishment drive a child's curiosity and create a kind of joyfulness towards learning that sustains over a lifetime.
Supporting knowledge seekers.
We support students on their quest for knowledge. Our schools are educational spaces where teachers support students who are free to pursue their own path to knowledge and understanding by giving them the tools they need to answer their own questions along their journey of growth. By supporting, guiding and setting goals with each student and instilling them with impeccable work habits, self-discipline and accountability, students learn that they can not only achieve, but often surpass their own expectations.
Self-empowered agency.
As they mature, children learn to look critically at their work and become adept at recognizing, correcting, and learning from mistakes. Self-assessment and self-correction without fear of judgement are an integral part of Montessori learning that helps students learn to explore challenges, failure, growth opportunities and development with grit, confidence and resilience.
A Montessori education has proven to be a potent predictor of future success.
It might surprise you to know that the following well-known individuals were all Montessori educated. While they represent a cross-section of fields, they all were game changers and innovators, high-performers driven by passion, creativity and innovation. At the pinnacle of their respective fields, they attribute their success to their Montessori roots where they were encouraged to become critical thinkers and explore their unique interests.
Jeffrey Bezos
Founder of Amazon.com
Mark Zuckerberg
Co-founder of Facebook
Devi Sridhar
Youngest-ever American Rhodes scholar, author, Oxford research fellow, Oxford lecturer on global health politics
Julia Child
Chef, author and star of many TV cooking shows
Beyonce Knowles
Singer-songwriter
Bill Gates
Founder of Microsoft
Larry Page and Sergey Brin
Co-Founders of Google
Yo Yo Ma
Grammy Award-winning Cellist, United Nations Peace Ambassador
George Clooney
Academy award-winning actor, director, producer, humanitarian, United Nations messenger of peace
Katharine Graham
Owner/Editor of the Washington Post
Helen Keller
Activist, Author, Lecturer (recipient of Presidential Medal of Freedom)
Jacqueline Bouvier Kennedy Onassis
Editor, Former First Lady
Sean 'P. Diddy' Combs
Rap mega-star
Prince William and Prince Harry
English royal family
Andrew Lloyd Webber
Theatrical Producer
Will Wright
Video game pioneer, creator of the Sims
Taylor Swift
Grammy Award-winning singer/songwriter
Andrew Lloyd Webber
British Composer
Bill and Hillary Clinton
Former President and New York Senator
Helen Hunt
Academy award-winning actress
Joshua Bell
Grammy award-winning violinist
John & Joan Cusack
Actor and screenwriter, and Academy award-nominated actress
Melissa & Sarah Gilbert
Actresses
Erik Erikson
Psychologist & author
Read MORE Read Less